Du 20 acupuncture point
Here is how to apply moxa cones at Du20 acupuncture point. This will help you regain or maintain your health.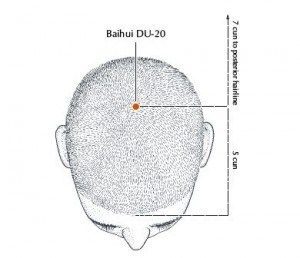 All energies gather at Du20 acupuncture point.
Du 20 acupuncture point is where all energies in the body gather. The acupuncture point is where Du meridian meets with bladder meridian, gallbladder meridian, sanjiao meridian and liver meridian. It is the point of sea of marrow.
What actions does Du20 acupuncture point do?
Benefits the brain and adjacent organs.
Calms the spirit and quells wind.
Boosts sunken yang and raises prolapse.
Nourishes the sea of marrow.
What conditions can Du20 acupuncture point treat?
Heavy feeling in the head
Windstroke
Mania
How to apply moxa at Du 20 acupuncture point
Applying moxa cones at Du20 acupuncture point will affect your whole body and help you stay healthy.
The only difficulty is that you have to do it on your own. Here is a good solution, though. This is subject to locating the point as per the picture. You can palpate it and mark it with a marking pen on your own.
Here is how to apply moxa at Du20 acupuncture point on your own.
If possible, please wear your hair short. If you wear your hair long, please use pins to make the moxa point visible in the mirror.
With an incense positioned between your right index finger and middle finger, please roll a moxa cone which is taller than usual. This is the way you can make it visible on your head. Hold the tall moxa cone between your right thumb and index finger. To make it stand on the point, put a little saliva or water on the nail of your left thumb, and then put the cone on the nail of your left thumb.
Please touch the moxa point with your left index or middle finger. Once your finger have found the point, please switch it with the moxa cone at the same time.
In the mirror, you will see the cone standing on the head when you lower your head a little. Then, please light it with the incense. It will take a few trials in the beginning, but you will get used to it very soon.As for the next four cones, you can put each of them on the ash.
More articles on moxibustion
Here are some more articles for moxibustion if you are interested.